We had a preview of St. Patrick's Day at school on Friday, with everyone wearing their spectacular green outfits and Leprachauns running wild on both ECDS campuses. We hope you have a wonderful St. Patrick's Day on Saturday!
Principal's Message
WIth WASC behind us, the teachers are busy in their classrooms and parents are busy getting ready for Spring Break. I just want to remind all the parents that the SAT-10 testing dates for grades 1-8 will be from Monday, April 16 through Friday, April 27. During this time period, it will be very important for your child to arrive at school on time, as the tests are all done during the first part of the day.
Spring Sport Teams
There will be a meeting after school on Monday, March 19 at the ampitheater for anyone in Grades 4-8 interested in joining the Boy's Volleyball team, the Girl's Basketball team, or the Boy's and Girl's Track Squad. Games start before Spring Break, so practices will start on March 20. See you there.
— Mr. Lehmunn
Encinitas Blvd. Director Message
Happy St. Patrick's Day! I don't know if the children told you but we had a visit from the Leprechauns. The children really enjoyed their fun-filled day of mischief. The next big upcoming event on the calendar to keep in mind will be the Spring Festival on Friday, March 30, which is also the last day of school before Spring Break. We will have daycare available at this campus during the Spring Break week of April 2-6. I hope that everyone has managed to keep up with the time change. Have a great weekend.
Thanks,
— Ms. Safarik
ECDS PTO "Hawk Tawk"
Thanks to everyone who supported our March Dine-Out event by ordering food from the New York on Rye food truck on Thursday! We appreciate your support.
A Family Hoedown Event
The PTO's annual spring fundraiser "A Family Hoedown" will be on April 28, and we're asking for your help! This event is our key fundraising benefit event, supporting our year-round activities and providing items for your children's classrooms. We're asking our ECDS families to help support this event in the following ways:
Purchase a ticket – tickets will be on sale the week of April 16, or you can visit theECDS PTO websiteto purchase tickets.
Become a sponsor – great opportunities for visibility for your business!
Contribute an item for our auction, such as timeshare, tickets, airline miles, gift certificates, service, themed baskets, sports memorabilia, etc.
If you're interested in helping out, please fill out the Auction Item Donation Formand drop it in the PTO mailbox by April 8. Contact Donna Spiegel, Event chair, at 760-522-9110 or dvspeigel@gmail.com.
Photo of the Week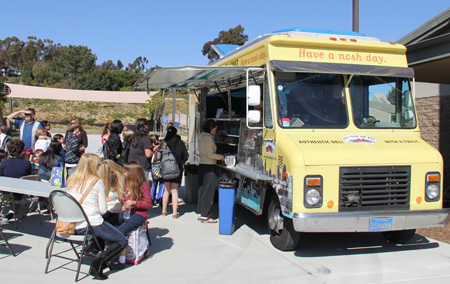 The "New York on Rye" Food Truck was parked on campus on Thursday, providing delicious soup, sandwiches and deli items for the PTO's March Dine-Out event.