Welcome to Our Campus Community
Whether you are a student, parent, teacher, or visitor, you will find opportunities to learn, serve, join, or participate in a broad variety of on-campus programs, organizations, and activities designed to support students, teachers and families. Sign up for our weekly e-mail blasts, check out our newsletter, or visit front desk or the Library to get the most up-to-date information on activities, programs, events or projects. There is always something on the planning table, scheduled or happening now, so it's important to get connected to be in the know and not miss those important dates.
Jun 19 / 2018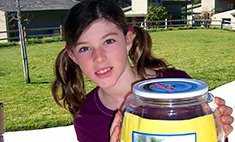 Over the last 10 years, students at Encinitas Country Day have run their hearts out in the annual Gift of Life Jog-a-Thon, raising more than $300,000. Driven by a mixture of compassion and courage, Kindergarten through 8th grade students race to raise funds to save the lives of their peers who need heart surgeries, and happen to live in countries where they have little hope of receiving such life-saving medical procedures without outside assistance.
According to Rob Raylman, CEO of Gift of Life International, "Since 2009, Encinitas Country Day students have funded life-saving surgeries for 273 children. What's even more remarkable, though, is the enthusiasm and humility with which these young people render service to others. I've attended nearly all of their Gift of Life school assemblies and every time I'm inspired by the students' attitudes. They understand that their choices and actions make a huge difference in the lives of other children."
Oct 17 / 2018
If your child was absent for their student portrait, or they had a 'bad hair day", mark your calendar for November 13th. From 10:30 to 11:00 am, our photographer will take make-up portraits on the Manchester Ave campus. Please outfit children in clothing that meets school dress guidelines.